It's that time of year when children who have made it to the end of primary school, prepare for the unknown of what high school brings.
The start of the year can be a time of high anxiety for some children as they leave the familiar comfort of their primary school – having been at the top of the pile – and move on to high school where they are the youngest, smallest and everything totally new. Maybe their friends are going to a different high school. Maybe they are switching from one system to another, state to private or vice-versa. Do they now need to commute on instead of walk or get dropped off? They'll have new teachers, and multiple teachers for each subject, not one for an entire day.

It's a big deal for them and important that they feel supported by their family. This transition to high school also coincides with puberty, which makes it even more challenging for tweens.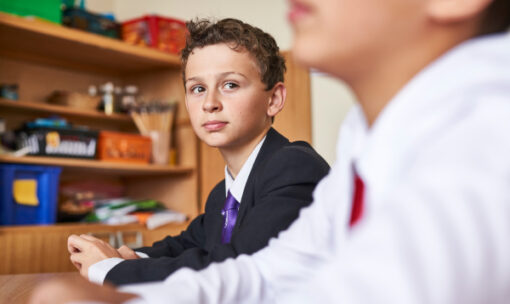 You've probably already visited the new school giving them an introduction to their new surrounds, but there are other things parents can do to support and prepare children for the transition.

How to Best Prepare Your Child for the Transition to High School
Teach them to recognise their feelings if they're unsure, nervous, feeling lost – and ensure they know where to go to ask for help when needed.
If you're seeing feelings of anger or sadness at home, open the lines of communication with your tween, and pinpoint exactly what it is that is making them feel this way, e.g. doesn't have many friends going, feels confused about what to do, etc.
Plan and get organised together with them – thinking about their bag, what to take, what to expect, where do they go on their first day, what day is sports day.
If they're taking public transport or a new bus, do a trial run with them so they feel more comfortable once school starts.
Practice some "what if" scenarios, to prepare them if something doesn't go to plan. Teaching them problem solving skills is essential for their confidence.

A successful transition will help your tweenager feel more confident in their ability to step into new situations. When young people develop new skills to manage new situations, it can increase their sense of competency, strengthening their mental health and wellbeing. The good news is that many of these concerns lessen in the first year, but they will rely on you to help them through the changes.

Creating Change has a number of psychologists who work with children and parents to manage this change, and teach them strategies to recognise and cope with anxiety in more positive ways. If you would like some additional support with your tween, please reach out to us.


Written by Rebecca Deane – Clinical Psychologist – www.creatingchange.net.au
Servicing the Hills District, Rouse Hill, Bella Vista, Castle Hill, Parramatta, Blacktown, Kellyville and surrounding areas of Sydney.