Are you a parent, feeling lost as to why you're not as close with your child anymore?
Has your child grown more distant as they get older, and you don't know how to reconnect?


It can be so hard as a parent, to see you little boy or girl change so much as they develop into a tween then teenager. You may be feeling frustrated, hurt and upset, and may fear or worry that the connection you once shared is broken. These feelings in turn may prompt you to yell or react without meaning to. Feelings of guilt or being upset with yourself later are normal reactions from parents, so don't worry – you're not alone here!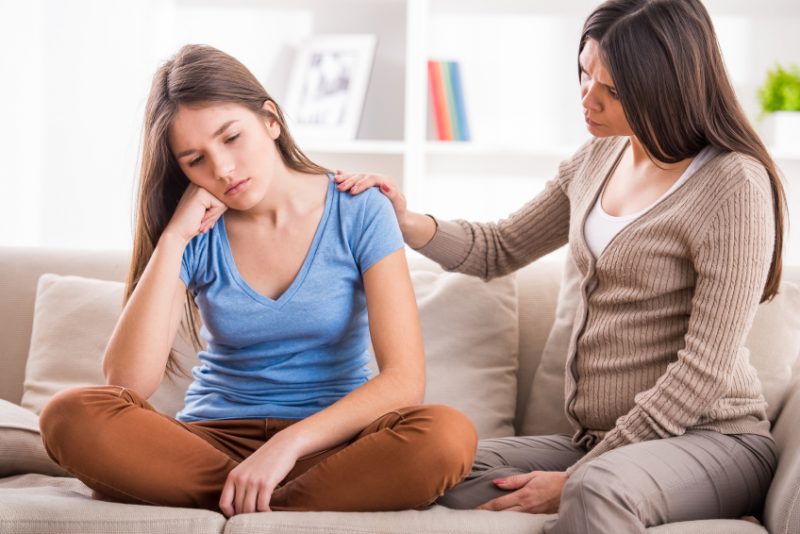 Do any of these statements or feelings sound familiar?
"You'll never understand!", "You don't know what you're talking about!"
Feeling disconnected from your teen like you don't even know them anymore?
Miss the relationship and connection you had in the past with your child?
Does your teen ignore you or dismiss your attempts to speak with them?


Like you, many parents are wondering, "How can I fix this?"
Understanding the basis of connection and the steps you can take to reconnect with your child is crucial. This will then enable you to facilitate the close and respectful relationship you want to have with your child in the future.


Steps to reconnect with your child –
1. Firstly, it's important to embody a calm, open-minded and curious approach.
2. Emotion Coaching – notice the emotion your teen is expressing; validate how they feel (even if you disagree); encourage them to speak about how they feel; and take the time to understand their perspective. Once you have an understanding, invite your child to engage in collaborative problem-solving with you (and any other carers/parents). Work together as a TEAM.

3. Collaborative Problem Solving – Choose an issue or something you disagree on. Together, write down and brainstorm all possible solutions (irrespective of their practicality). Go through the list and identify all possible options that you and your child will agree to. Together choose which option/s you wish to try first, then talk through any concerns they may have. Develop a plan to address these concerns and discuss appropriate rewards or consequences if the plan is/is not followed.

4. Help them Develop their Thinking Brain – In situations where a resolution cannot be found through collaborative problem-solving, and if you feel your child's safety is not likely to be at risk, you are encouraged to work with your teen to talk through a pros and cons list, and to support them through developing a plan (and back-up plans). This process is more effective than saying 'no' or stopping your teen outright, as it assists them to develop problem-solving skills and learn how to make safe and helpful decisions on their own (with your guidance).

5. Teach your Child the skills they need (through modelling) for when they move out of home. You won't always be there to tell them what to do. For your own piece of mind, take steps now to teach them how to understand their own emotions, learn how to problem-solve, make decisions, and think things through properly. This ensures they are best prepared for adulthood, independence, and developing empathy for others.

Be Kind to Yourself.
Be patient and give yourself time. Emotion coaching can take some getting used to, and it can take a while for trust and connection to be rebuilt. Be gentle, stay calm, and take it one step at a time. Keep persisting and be consistent; it will pay off (and your child will appreciate your commitment).

It's important to make sure you ask your child for their opinion or ideas first, before providing your own. Remind yourself that you're on the same team as your child. You are both equal members of the team, especially during collaborative problem-solving.

As parents, we can often easily be judgmental or critical – be aware of this. All ideas (no matter how ridiculous) are welcomed. One of the goals of collaborative problem-solving is to help your teen discover for themselves why some ideas are better than others. Remember, when it comes to emotions there are no right or wrong answers. Try to understand your teen's perspective and be curious about their world.

Teens who feel understood, respected, and emotionally safe with a parent will seek them out for the rest of their lives.

Challenge yourself, and implement these steps with your child and family, and see where it leads you. You may be surprised. If you have any difficulties or get stuck along the way, or if you or your teen experience mental health difficulties and want to learn how to reconnect, please reach out to our team at Creating Change.

To read more about emotion coaching and collaborative problem-solving, we can recommend the following books for parents who wish to learn more:


Written By Clinical Psychologist Dr Bianca Heng – www.creatingchange.net.au